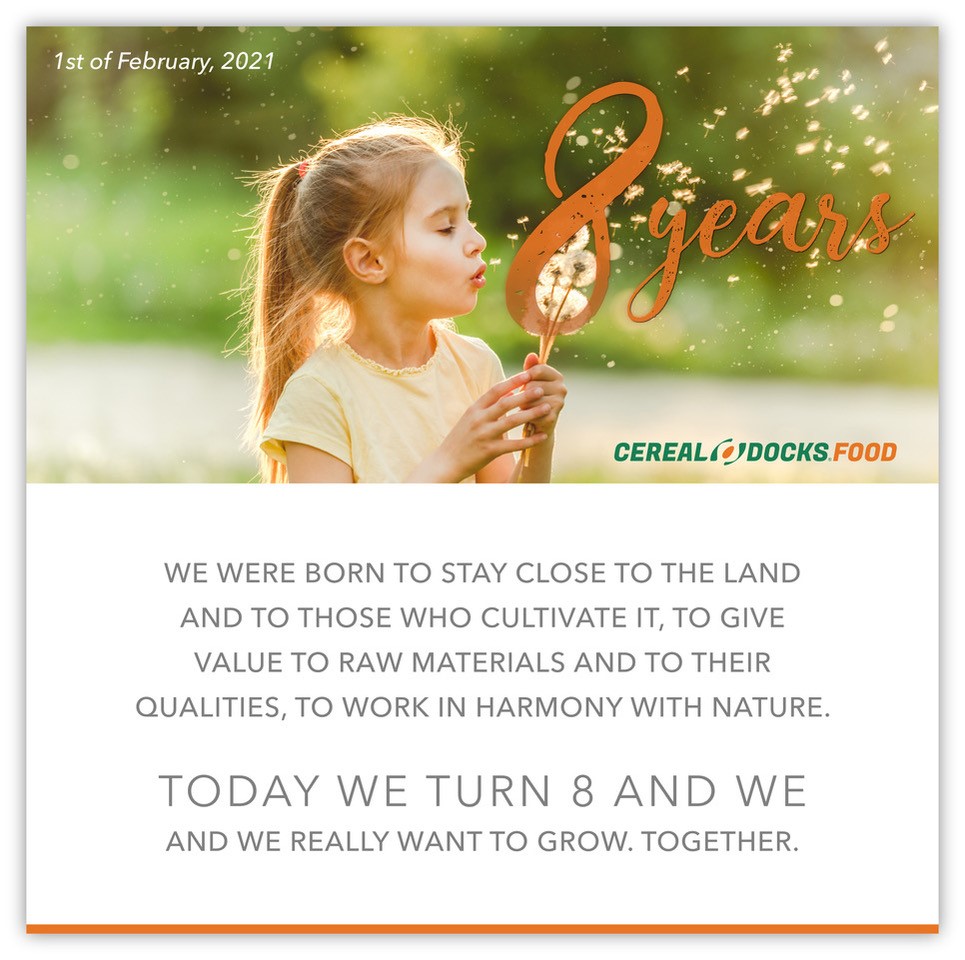 8 YEARS AND ALL LIFE AHEAD!
Today, February 1st, is a very special day: 8 years ago, in 2013, Cereal Docks Food was born. The idea of ​​the founders Mauro Fanin and Silvia Santarelli of giving life to an innovative, inclusive company, attentive to the quality of the products but also to the well-being of people and the ecosystem, began to take shape.
In the timeline, 8 years may be few, but they have been intense, sometimes difficult, exciting, because inside Cereal Docks Food we have all placed our hopes, our passion and our desire to always improve.
Today we are here to celebrate, to remember, but above all to imagine the next goals. The times we are going through are uncertain, but we are sure of one thing: that the trust of our customers is a gift that we must win day by day, year by year.
Our values, passion, quality, customer satisfaction, innovation and respect for the environment guide us. We are accompanied by awareness of the importance of our work: making good, healthy, genuine ingredients while maintaining a strong and sincere bond with our customers, our collaborators, agricultural partners, suppliers, families and our mother earth. Because Cereal Docks Food is high value ingredients, because people are a value, because the future depends on our ability to regenerate the planet we live on.
This anniversary is a stage in a long journey that will take us far, exploring new ways, with the aspiration to continue to give our best.
We share a feeling of gratitude towards all those who believed and still believe in us.
Heartfelt thanks to our Team, to the Group we belong to, to the customers, collaborators and suppliers who accompany us step by step in this adventure. We are ready to make the future better, together.
Happy birthday Cereal Docks Food!