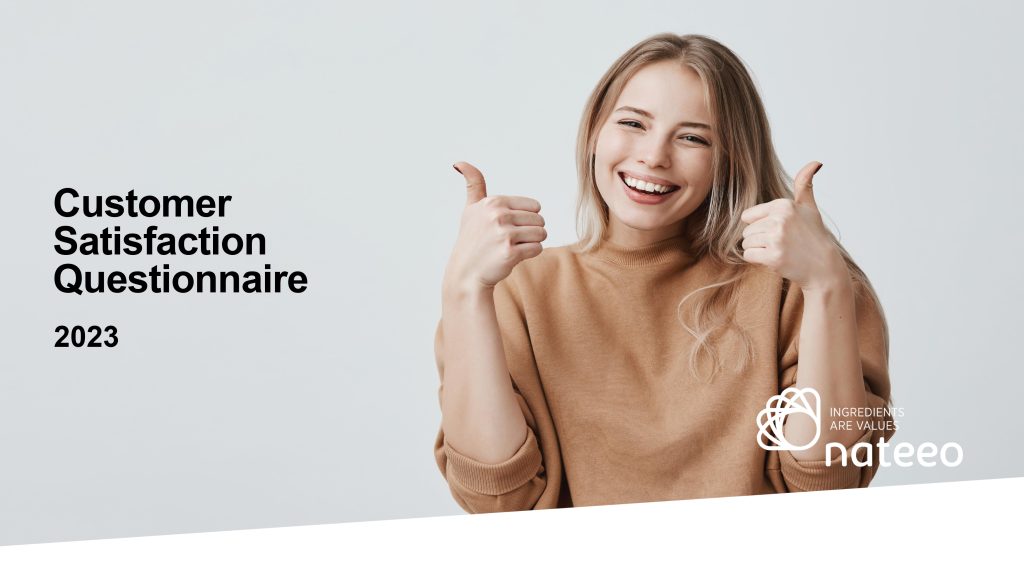 CUSTOMER SATISFACTION SURVEY 2022: IMPROVED EVALUATION OF NATEEO PRODUCTS AND SERVICES
Knowing the level of customer satisfaction and their suggestions is crucial for any company that aims to improve its organisation and service. To understand the opinion of its customers, Nateeo, like every year, has proposed an online questionnaire asking them to evaluate the company's performance in various areas.
The response was immediately positive, with a participation rate of close to 50 per cent: a sign that confirms the importance of maintaining an open dialogue with customers.
On the evaluation of products and services, the results indicate a positive rating from customers, which has increased since 2021. 70.9% indicate that they are very satisfied with Nateeo's products and services, up 5.9% on 2021, while 47.6% say they are very satisfied with the commercial offer, up more than 10 percentage points on 2021.
With regard to compliance with delivery times, 55.3% of the respondents were very satisfied, while 63.1% were very satisfied with the logistics service. With regard to the solutions developed by Nateeo for packaging, 56.3% rated them as very satisfactory, marking an increase of 5.7% over 2021.
The clients' evaluation of customer care and corporate communication aspects, on the other hand, emphasises a very high level of satisfaction with technical documentation, with 65% saying they are very satisfied. Of particular importance to Nateeo is the perceived value of the customer/supplier relationship, defined as high by 73.8% of customers: a value that encourages the company to continue to work hard to cultivate relationships with its partners based on mutual trust.
The customers therefore positively evaluate the products and services offered by Nateeo, but are also interested in other aspects such as R&D and innovation, which were defined as very important by more than 55% of the respondents. Overall customer satisfaction has increased compared to the previous year, as has the recognition of the professionalism and quality of the services offered by Nateeo.
Objectives for improvement included the need to enhance the response time to R&D offices, the demand for greater responsiveness on product availability, the demand to strengthen services dedicated to distributors, and the demand to ensure greater product availability with a view to continuity of supply and food safety.
For every customer who answered the customer satisfaction questionnaire, Nateeo decided to make a donation to the 'Banco Alimentare' association, which aims to reduce food waste through the recovery and free distribution of surplus food to people and facilities in need, thus giving food a new value. This initiative is particularly close to Nateeo's heart and perfectly reflects the company's commitment and vision of sustainable and inclusive development.
The hope is that from year to year the number of responses to the customer satisfaction survey promoted by Nateoo will grow, so that we can contribute more and more to the initiatives promoted by the Banco Alimentare.
Our sincere thanks go to all the customers who gave their contribution by filling in the questionnaire, helping us to improve our work and making a generous gesture towards people in need!