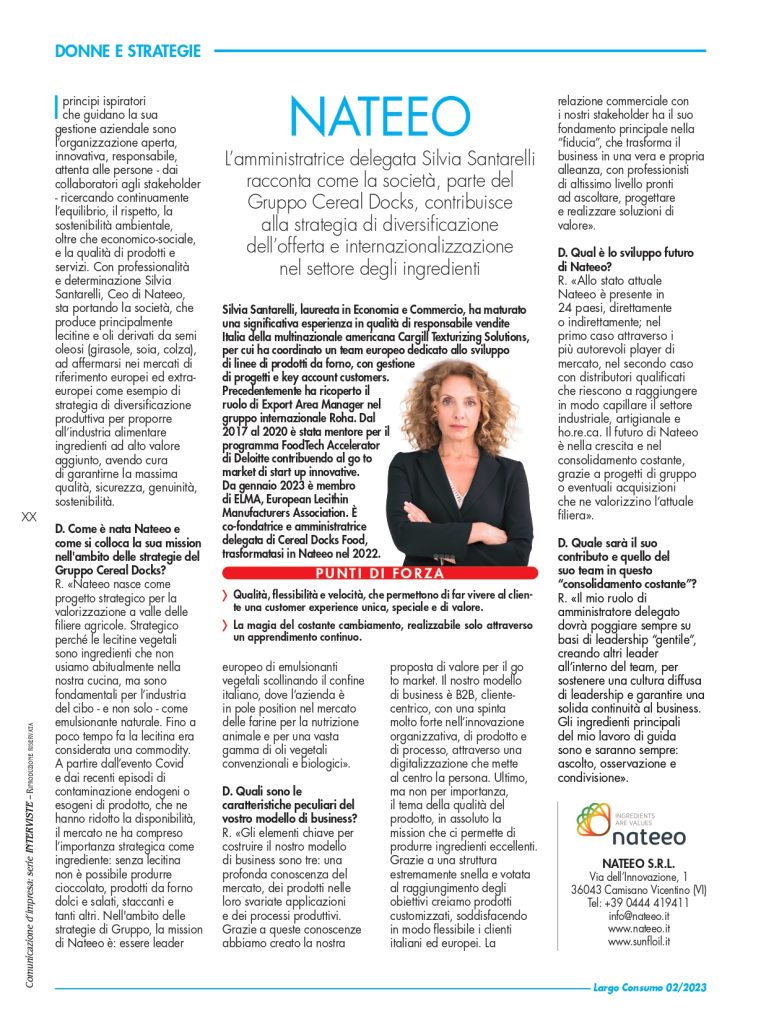 WOMEN AND STRATEGIES: NATEEO ON LARGO CONSUMO
Silvia Santarelli, CEO of Nateeo, is the protagonist of the "Women and Strategies" column in the latest issue of Largo Consumo, magazine dedicated to the economy and marketing of consumer goods.
At the center of the interview the role of Nateeo in the context of the new value proposition by Cereal Docks Group: from the development of the Group's production diversification strategy to the enhancement of products from "commodity to ingredients".
Nateeo's primary commitment consists in the downstream valorization of agricultural supply chains of strategic ingredients such as vegetable lecithins, a natural emulsifier used in the food sector and beyond. This enhancement process has led to a change in the market's perception of lecithin: from an undifferentiated "commodity" to a real "ingredient", placing the concept of quality at the center of the new business model.
The starting point of this new awareness was the pandemic phase and most recent episodes of contamination which reduced the availability of lecithin. These unforeseen events have led the market to understand the nature of this type of ingredient, without which it is impossible to produce chocolate, sweet and savory baked goods, snacks and many other products consumed daily by millions of people.
"As part of the Group's strategies – explains Silvia Santarelli in the interview – Nateeo's mission is to establish itself as the European leader in vegetable emulsifiers, going beyond the Italian border, where the company is in pole position in the nutrition flour market animal and for a wide range of conventional and organic vegetable oils. To build our business model we have focused on three key elements: deep knowledge of the market, of the products in their various applications and of the production processes".
Thanks to this knowledge, Nateeo has created a winning business model: a B2B that stands out for the utmost attention to the customer as well as for the constant attention to quality, flexibility, and speed: three pillars that allow the company to offer a unique experience the customer, special and valuable.