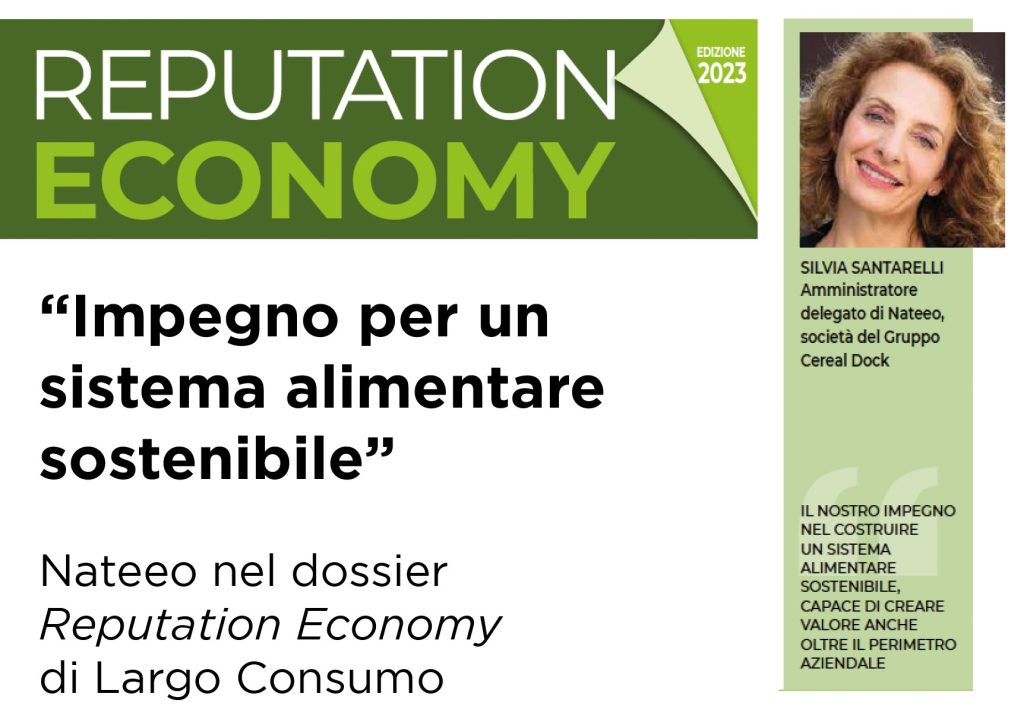 REPUTATION ECONOMY, SILVIA SANTARELLI RECOUNTS NATEEO'S COMMITMENT TO SUSTAINABILITY
Nateeo is among the protagonists in the latest issue of Reputation Economy of the Largo Consumo magazine dedicated to the topics of corporate reputation, sustainability and CSR strategies implemented by top Italian companies.
Sustainability today is one of the drivers guiding business development. An evolution recounted in the new Largo Consumo dossier, which collects the commitments of many companies regarding ESG objectives: Environmental and Social Governance.
The companies were divided into ten thematic areas: corporate responsibility, sustainable agriculture, animal wellbeing, retail social actor, education, corporate welfare, sports, preservation, pack and supply chain and web reputation.
As part of the focus on sustainable agriculture, Nateeo CEO Silvia Santarelli spoke about the company's commitment to a more sustainable food system, capable of creating and distributing value beyond the company perimeter.
Nateeo's objective is not only to improve and make industrial processes more environmentally sustainable by adopting third-party certification to guarantee transparency and responsibility. The agri-food sector offers an extraordinary opportunity to extend the value of food towards the concept of nourishment: it is not only a matter of reducing impacts and emissions, but also of activating mechanisms that foster sociality, solidarity, encounters and inclusion among people.
True sustainability must always have as its compass the environmental, economic and social dimensions. This is why, along with the desire to certify its environmental sustainability, Nateeo is also committed to social projects, such as the initiative launched in collaboration with the Banco Alimentare, which saw the company contribute 100,000 meals to the needy population in Emilia-Romagna during the first phase of the floods.
Nateeo bases its commitment to sustainability on concrete actions capable of generating a positive impact, seeking to graft commitments to environmental sustainability and social responsibility into traditional company processes, activating a virtuous circle of actions that bring widespread benefit inside and outside the company.