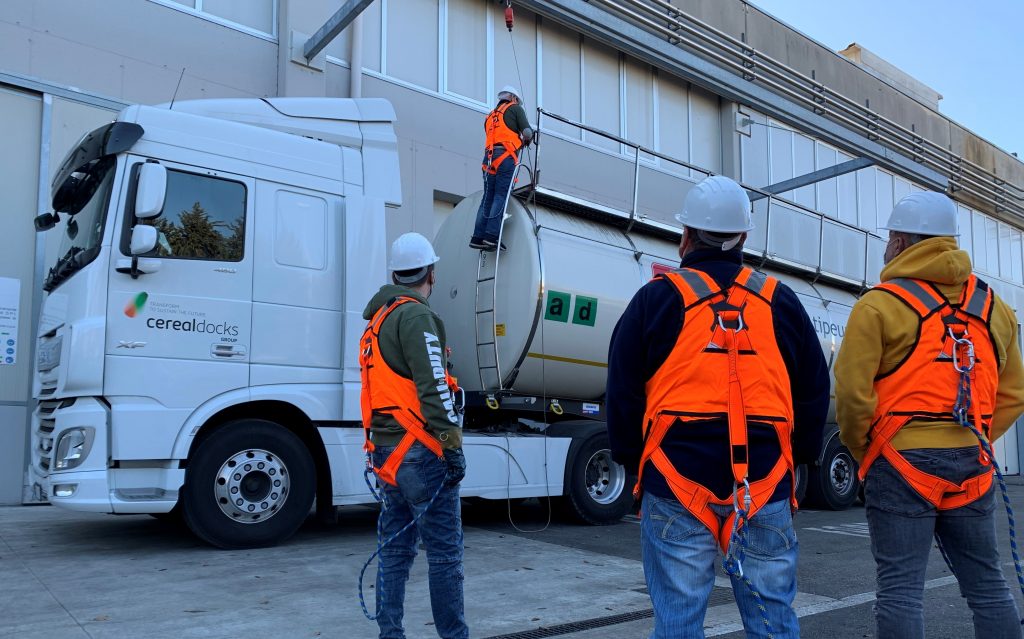 RELATED TO LIFE: SAFETY FIRST FOR DRIVERS
In recent days, an exercise was organized at the Camisano Vicentino plant to instruct the Group's drivers in the use of the Lifeline, installed at the loading/unloading points of Cereal Docks Food.
An important synergy between the business units, which reconfirms the commitment of the entire Group to support the health and safety of employees and collaborators.
The Lifeline is a cable or a rigid rail, with a connection element (a carabiner, a shuttle or a cart) connected to the harness worn by an operator. By securing the individual protection device to the stretched steel cable, the operators can move and work on the entire surface of the overlay in total safety.
Cereal Docks Food has always taken care of health and safety of its employees and collaborators. In 2020 it further improved the loading and unloading phase with an upgrade of the Lifeline at the production site in Via Cà Marzare in Camisano Vicentino.
An ideal "gym", therefore, also for a field exercise.
The recent evolution of the activity, which has brought part of the Group's logistic activities in-house, with the extension of the guarantees offered by GMP + certification also to the phase of transport of raw materials and products, has increased the attention on the training of drivers, who for a few months have become part of the Group's organic plant, on the topic of work safety and risk prevention.
The training course, consisting of a theoretical risk assessment module, an in-depth analysis of the rules and a practical exercise module, gave the participants all the information relating to the correct use of third-category PPE, for the prevention of falls from height, in accordance with the provisions of Legislative Decree 81/08.
The commitment to promoting a culture of prevention, which animates all employees, is also at the center of the fifth edition of the Safety Day, held every year on February 7th.
A day to reconfirm the commitments in terms of prevention and safety at work, commitments that are renewed every day because protocols, protective devices and training courses are not enough, if it does not simultaneously increase awareness and the sense of responsibility from all.