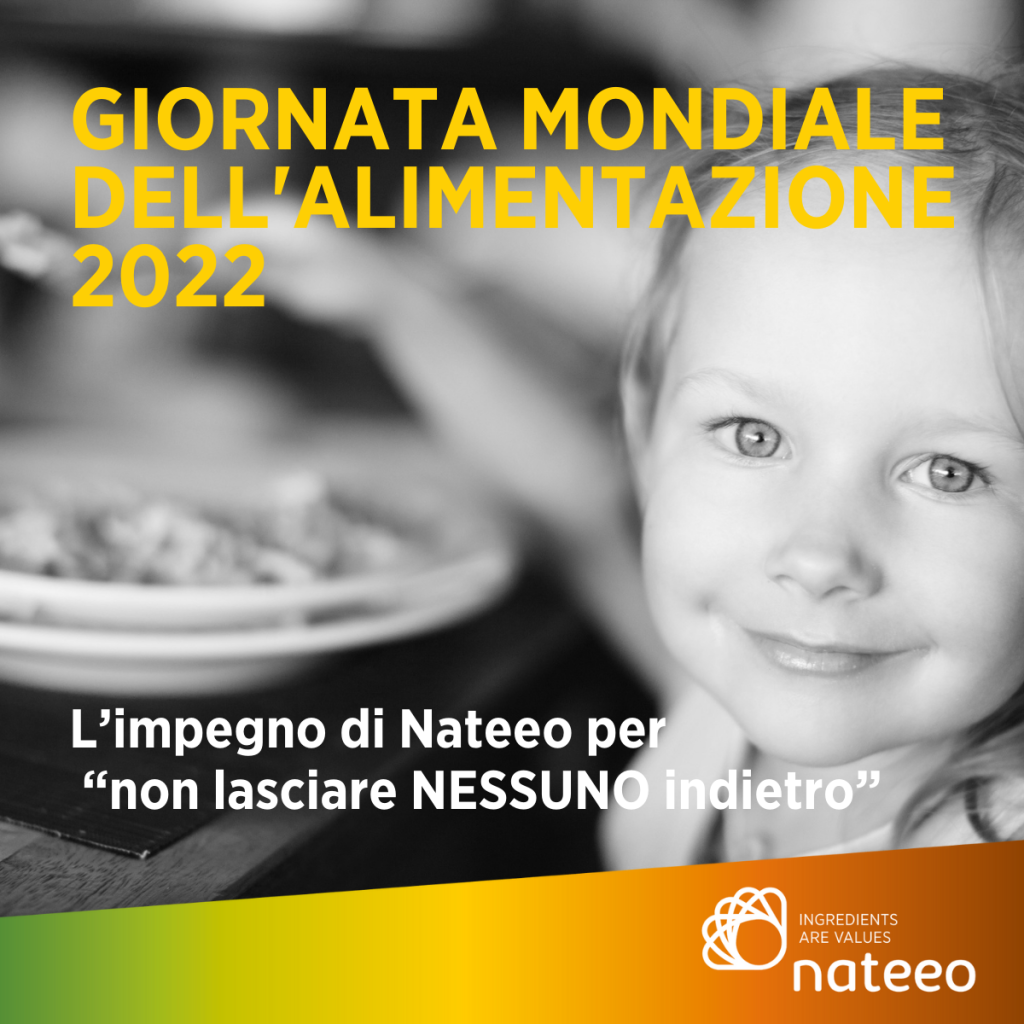 World Food Day, Nateeo's commitment to 'leave NO ONE behind'
Our actions are our future. In an era of complex and global crises, the food we choose and the way it is produced, prepared, cooked and stored directly affects our lives.
On the occasion of World Food Day 2022 promoted by the FAO, Nateeo joins institutions, academia and civil society to strengthen the commitment to guarantee all people the right to food, food security, healthy and wholesome nutrition.
A commitment that Nateeo lives as a true mission to respond to people's requests for wellness and health by offering a range of excellent products and ingredients derived from the processing of the best raw materials, the fruit of the daily work and passion of farmers and partners throughout the supply chain, 'from farm to fork'.
The willingness to share this vision and this commitment has taken concrete form in the recent publication of the new Supplier Code of Conduct, through which Nateeo communicates its values and defines the rules for working together in an increasingly consistent manner with respect to its commitments to quality, safety, and authenticity.
Today, food is increasingly an expression of sustainability, not only in the production stages but along the entire value chain up to the end consumer. With this in mind, Nateeo intends to contribute to the battle against food waste and social exclusion, also thanks to its collaboration with Banco Alimentare Onlus, which deals with the collection and recovery of surplus foodstuffs and their redistribution through more than 7,500 charitable structures scattered throughout Italy.
World Food Day reminds us that a sustainable world is a place where every person counts. Although much progress has been made towards building a more equitable and inclusive world, too many people still fail to see the benefits of human development, innovation and economic growth.
As a result, millions of people around the world cannot afford proper nutrition, which puts them at high risk of food insecurity and malnutrition. The problem stems from access to and availability of nutritious food, which is increasingly hampered by critical issues caused by events such as pandemics, armed conflicts, climate change, inequalities, rising prices and international tensions. People around the world are exposed to the domino effect of these challenges that know no boundaries.
One of the 17 sustainability goals enshrined in the UN 2030 Agenda The 2030 Agenda aims to eradicate hunger and all forms of malnutrition everywhere in the world in the next 15 years. Due to the rapidly increasing demand for food worldwide, it is estimated that food production will have to be more than doubled by 2050.
A great challenge in which all companies in the food sector are called upon to participate.
To build an inclusive and sustainable future where all people have access to healthy and wholesome nutrition, it is necessary to 'leave NO ONE behind', as the title of World Food Day 2022 states, and to contribute together to better production, better nutrition, a better environment and a better life for all.