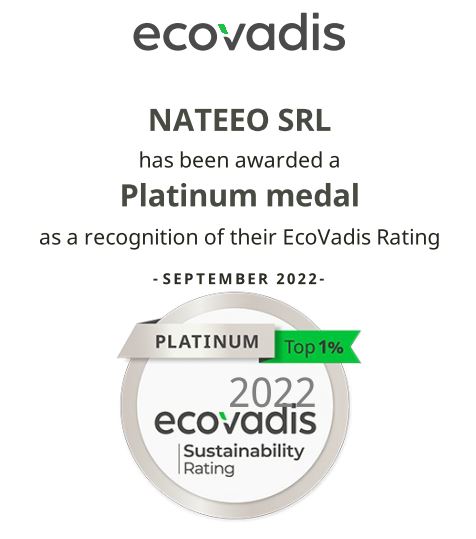 NATEEO FOCUSES ON SUSTAINABILITY AND IMPROVES ECOVADIS 2022 RATING
At Nateeo, sustainability, like quality, is a process of continuous improvement, oriented towards ever more ambitious goals. This is confirmed by the annual evaluation of Ecovadis, the international collaborative platform that allows companies to monitor the sustainability performance of suppliers through an annual audit.
Also in 2022, Nateeo passes the test brilliantly, confirming the PLATINUM award, which is given to all companies that exceed a score of 75/100. However, with a view to continuous improvement, Nateeo achieved an important score increase over last year, reaching 90/100, 11 points higher than the previous assessment.
EcoVadis evaluations focus on 21 topics included in 4 macro-areas: environment, labour and human rights, ethics, sustainable procurement.
The 21 criteria are assessed on the basis of international sustainability standards such as the Global Compact Principles, the International Labour Organisation (ILO) conventions, the Global Reporting Initiative (GRI) standard, the ISO 26000 standard and the CERES principles.
Nateeo's performance was rated 90/100 on all 4 macro-areas examined, considered by Ecovadis as having a structured and proactive approach to sustainability, consisting of tangible commitments and actions with detailed information on implementation and comprehensive reporting on the sustainability of actions and Key Performance Indicators.
Monitoring its own sustainability performance enables Nateeo to qualify as a reliable partner at the forefront of reducing the environmental, economic and social impact of its production system.
"We are well aware of how consumers in recent years are asking companies to take an extra step towards ever greater sustainability," says Silvia Santarelli, CEO of Nateeo, "and from this point of view the food sector has a lot to offer, thanks to sustainable supply chains that are responsible towards the environment, the climate and communities. It is this awareness that stimulates us to be more and more sustainability-conscious partners to respond to people's requests for wellbeing and health'.
Ecovadis' annual evaluation confirms the validity of Nateeo's commitment to building a sustainable food system, capable of creating value beyond the company perimeter, thanks to solid and transparent relationships with customers and suppliers throughout its value chain.
There Is more, looking at the common commitment to make the world greener and more sustainable: to celebrate the achievement, Ecovadis will plant a tree on behalf of Nateeo thanks to its partnership with One Tree Planted the international community of donors committed to restoring the world's forests.
Together, we can improve the world.
#bettertoghether