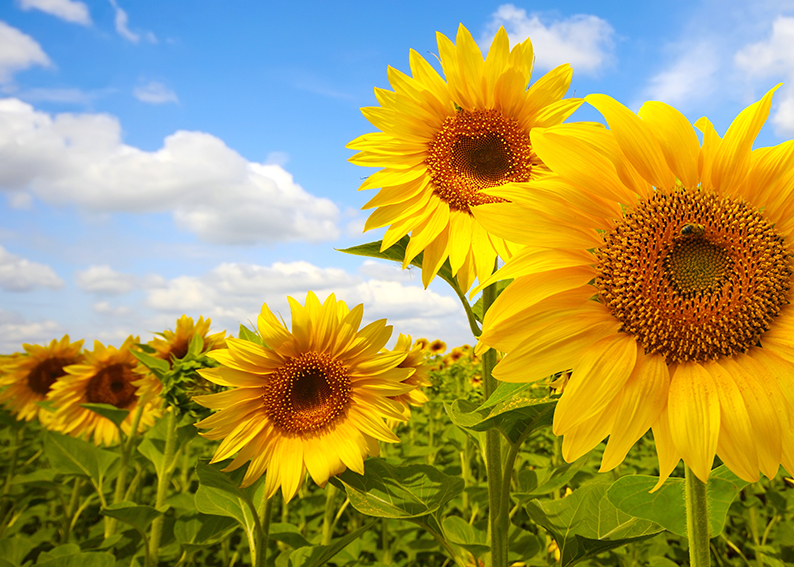 SUNFLOIL, THE HIGH OLEIC SUNFLOWER OIL FROM CEREAL DOCKS FOOD, IS ALSO ORGANIC
Sunfloil, the high oleic sunflower oil from Cereal Docks Food, is now also available in the organic version, the result of an accurate production process that enhances and preserves the qualities of organically grown sunflower seeds.
Sunfloil Organic is produced in Italy in the Roverchiara plant, entirely dedicated to the transformation of seeds from organic farming.
Stability at high temperatures, resistance to oxidation and low content of saturated fatty acids are the fundamental properties of refined high oleic sunflower oil obtained through a cold pressing process that preserves its organoleptic and nutritional characteristics.
The low content of polyunsaturated fatty acids (13g / 100g) makes organic high oleic refined sunflower oil particularly suitable for frying and cooking at high temperatures. Its organoleptic characteristics make it suitable also to be used raw to dress salads or vegetable-based dishes, for the preparation of sauces or for preparations in oil.
Cereal Docks organic refined high oleic sunflower oil is available in different formats and packaging able to preserve its quality and freshness with transport solutions for every need: bulk, foldable IBC-R KG 900, 920 kg tank (IBC) , 900 kg tank (IBC), 180 kg metal drums with mobile lid or lid or 20 kg tanks.
Discover all the goodness of organic supply chains with the new Sunfloil Organic.